Ash
Of all the Northern hardwood species, Ash is the one of the densest. The heartwood is light tan to dark brown and the sapwood is creamy white. It is similar to white oak but more yellow. Ash is a beautiful alternative to oak as it has a very distinct grain pattern that is bolder than that of oak.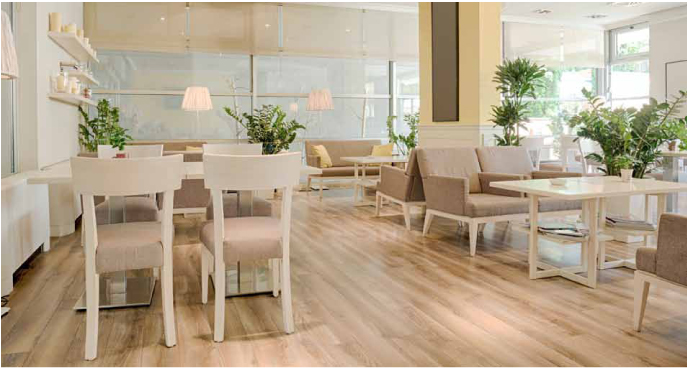 FEATURES AND BENEFITS
Ideal for residential and commercial applications
Stained, select grade ash is an acceptable substitute for oak
Similar to hickory but offers greater stability
Similar to white oak but with more color
Sapwood is creamy white
Can be installed on or above grade
Grain: Bold, straight, moderately open grain with occasional wavy figuring, and can have strong contract in grain.
Hardness: 1320 Janka Hardness Scale, 2% harder than Northern red oak.
Durability: Elastic, hard, excellent shock resistance.
Widths: Available in solid planks 2 ¼" to 5". Wider boards available on special order.
Weight: 2.7 lbs per sq.ft.
Thickness: 3/4"
Available in: Square-Edge and Bevel-Edge
SELECT & BETTER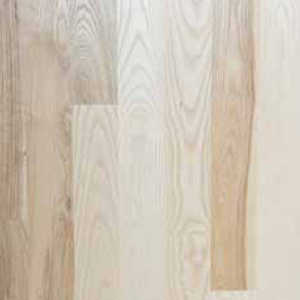 Color variation between the very white sapwood and darker heartwood is allowed. Pin knots and very minimal mineral streaking are permitted.
Average board length is 39".
ASH-CHARACTER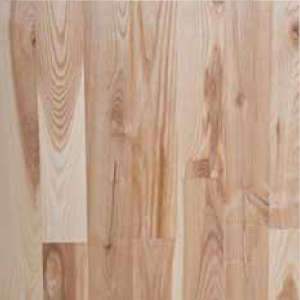 All character and imperfections are permitted. This flooring will have extensive color variation. Pencil width knots are allowed to go all the way through the board.
Average board length is 32".